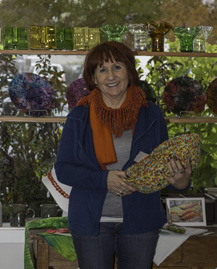 The Holiday 2013 Vashon Island Art Studio Tour will be held on two weekends, December 7th– 8th and 14-15th, from 10AM – 4PM each day. It's a free, self-guided event.  Preview the art and follow the numbers designated on the Studio Tour map, which is available online at VashonIslandArtStudioTour.com, and at most island businesses. Forty-five studios, shops and galleries (representing over 150 artists!) will open their doors to visitors.
Heather Brynn is the proprietor of Stop number 41,  SAW-Starving Artist Works
9922 SW Bank Rd, next door to Café Luna
"For as long as I remember, my favorite pastime was to create with my hands. I started selling my handcrafts at the age of 13, going home every day and making more product to sell……school work was not a priority.