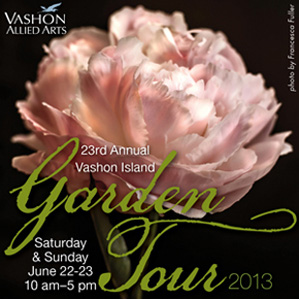 Spring is nearly here and so is the 23rd annual Vashon Island Garden Tour.
Weekend festivities begin with the Sunset Garden Gala, Friday, June 21, 6 pm until sunset in a festive waterfront garden paradise. Enjoy cocktails, catered gourmet dinner, wine from Palouse Winery and live entertainment. Tickets are $125 per person and are limited. Call 463.5131 to reserve.
The Tour, Saturday, June 22 and Sunday, June 23, 10 am to 5 pm offers gardeners of all persuasions the opportunity to experience five gorgeous and wildly diverse outdoor Island sanctuaries, complete with garden talks, live music, art in the garden and discounts offered by local merchants.