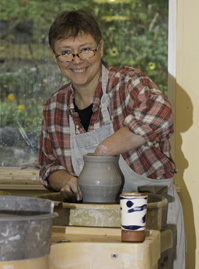 The Holiday 2013 Vashon Island Art Studio Tour will be held on two weekends, December 7th– 8th and 14-15th, from 10AM – 4PM each day. It's a free, self-guided event.  Preview the art and follow the numbers designated on the Studio Tour map, which is available online at VashonIslandArtStudioTour.com, and at most island businesses. Forty-five studios, shops and galleries (representing over 150 artists!) will open their doors to visitors.
Liz Lewis Pottery is stop number 7
12714 SW Cemetery Rd
"I'm a producer of earthenware pottery and I've been doing it for 35 years. I have a great relationship with color. That's why I enjoy working on a white background, and earthenware gives the brightest colors. Over the years my work has become more and more decorative, and the colors are more popular now. I like making pots for people to use. I work with kids and adults in my teaching studio. I conduct classes and summer clay camps here so it's an active place and a nice little community of clay people.
"The sales that I do during the Art Tours are the best shopping for Liz Lewis Pottery that you can find. That's when I have the biggest inventory and it's the shows that I'm the most proud of. My year of production revolves around the Spring and the Holiday Art Tour. I've been doing the Art Tour since 1988 when it was just a group of potters and we're now at our 35th anniversary."